History of Ben Harrison Camp No. 356, Indianapolis, IN
Sons of Union Veterans of the Civil War-Department of Indiana
The Ben Harrison camp has been in existence, on and off, for over 120 years, making it the oldest active camp in the Department of Indiana.  The camp history, as detailed below, is all that is currently known.  Unfortunately, most of the camp's service records have been presumably lost to history.  If you have or know of any additional historical information about this camp, please contact the Camp Signals Officer.   We would very much like to hear from you.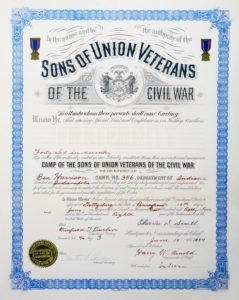 The Ben Harrison Camp No. 356 was organized in Indianapolis, Indiana on June 19, 1884 with 46 members.  Most of these original members would have certainly been "Real Sons."  The camp was reorganized on March 8, 1897 with 32 members, presumably because the first camp disbanded. Information is sketchy, but the camp was active and continued meeting into the early 1970's. Sometime after this date, the camp was disbanded.
In 1981, the Ben Harrison camp was organized once again and has met continuously since.
All the known past Camp Commanders are listed below.  Many of the Camp Commanders from the original camp organization date to 1981 remain unknown.
Year    Camp Commander
1897 – James W. Noel
1898 –
1899 – Carroll Carr
1900 –
1901 –
1902 – Fredrick E. Matson
1903 – William P. Reagan
1904 –
1905 –
1906 –
1907 –
1908 –
1909 –
1910 – Eli F. Ritter
1911 – Frank Shellhouse
1912 – Dr. L.W.A. Luckey
1913 – Max J. Young
1914 – Jesse E. Martin
1915 – Alexander Chambers
1916 –
1917 –
1918 –
1919 – Rev. Dr. Frank C. Huston (also Past C-in-C)
1920 –
1921 – E.S. Shumaker
1922 – Capt. William H. Ball (also PDC)
1923 – H.E. Negley
1924 – Albert L. Pawley (also PDC)
1925 – Albert L. Pawley (also PDC)
1926 – George O. Hawkins
1927 – George O. Hawkins
1928 –
1929 –
1930 –
1931 – William A. Edwards, Sr.
1932 –
1933 – Capt. William H. Ball (also PDC)
1934 – David Durbin
1935 – Arthur W. Demree
1936 –
1937 – Arthur W. Demree
1938 – W.C. Engle
1938 –
1939 –
1940 –
1941 –
1942 –
1943 – C.M. Barksdale
1944 –
1945 –
1946 – Clinton T. Durbin
1947 –
1948 –
1949 –
1950 –
1951 –
1952 –
1953 – C. Ross Smith
1954 – Cecil McConahay (also PDC)
1955 –
1956 – John M. Caylor (also PDC)
1957 – John M. Caylor (also PDC)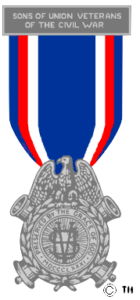 1958 – Frank Unversaw
1959 – Roy Volstad (also PDC)
1960 –
1961 – Rev. H.E. Vance
1962 –
1963 –
1964 –
1965 –
1966 –
1967 –
1968 –
1969 –
1970 – W.G. Shannon
1971 – Rev. Herbert Ray Worth (also PDC)
1972 –
1973 – Ivan Lancaster (also PDC)
1974 –
1975 –
1976 –
1977 –
1978 –
1979 –
1980 –
1981 – Thomas H. Hayes
1982 – Allen W. Moore (also PDC and Past C-in-C)
1983 – Allen W. Moore (also PDC and Past C-in-C)
1984 – Daniel Morris
1985 – Richard Sharp
1986 – Dr. Doyle Manhart
1987 – Unknown
1988 – Unknown
1989 – Dr. Harry G. Becker
1990 – Dr. Harry G. Becker
1991 – Olen Gowens
1992 – Richard L. Listenberger
1993 – Richard L. Listenberger
1994 – Stephen T. Jackson (also PDC)
1995 – Stephen T. Jackson (also PDC)
1996 – Thomas C. Milton
1997 – McClernand B. Crawford
1998 – McClernand B. Crawford
1999 – Carter C. Keith
2000 – Carter C. Keith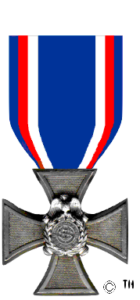 2001 – Stephen B. Bauer
2002 – Stephen B. Bauer
2003 – Bruce R. Kolb (also PDC)
2004 – Bruce R. Kolb (also PDC)
2005 – Philip D. McClure
2006 – Philip D. McClure
2007 – Michael W. Beck (also PDC)
2008 – Michael W. Beck (also PDC)
2009 – Timothy J. Beckman
2010 – Timothy J. Beckman
2011 – Garriel R. Walls
2012 – Garriel R. Walls
2013 – John M. Bowyer
2014 – John M. Bowyer
2015 – Michael W. Beck (also PDC)
2016 – Michael W. Beck (also PDC)
2017 – James M. Floyd, Jr.
2018 – James M. Floyd, Jr.
2019 –
2020 –
C-in-C = Commander in Chief
PDC = Past Department Commander
This Day In Civil War History
No Events
Join Our Yahoo! Group E-mail Lists
Upcoming Meetings & Events
December 8 @ 11:15 am

-

2:00 pm
Like Our Facebook Page